An epic fantasy set in a world 1,000 years from now in a stable medieval society, a father who has lost his heart takes one last job—to assassinate a man he's never met.  What he finds changes him forever.
A father who lost his heart, a traveler who lost his love, and a girl who lost everything.
This fantasy adventure explores the aftermath of such a catastrophe, in a new world distant yet familiar to us. It questions our concept of family and challenges beliefs—all through the eyes of three strangers that have no business coming together.
410 pages, Kindle & paperback.  Amazon, B&N, where books are sold.  Now on audiobook for Kobo, Apple Books, Google Play and Audible!
Book Club Questions PDF
You can download a PDF of questions to discuss in your book group!  These questions were prepared specifically for you by the author to spark thoughtful conversation.
Warning:  Spoilers.
"I couldn't recommend this book enough. I actually believe it should be read at the high school level for young adults as well. It forces the reader to question, grow and learn to question the world around them and the world living within themselves."
– BookShelfMuse (full review here) 
"With each step of the journey the author, Mark Bradford, keeps his audience entertained while also on the edge of their chairs.  
The connections between the characters were rich and vital to the story.  The story is very poignant and moving."
 – Audiobookreviewer.com (Full review here)
See all Bookstagrammer reviews
Bookstagrammers not only provide in-depth reviews but gorgeous layouts of the books they review.  Check those reviews out or by clicking on the reviews link on the top menu.
Check it out from your local library.  Using Hoopla and your library card you can check out the audiobook from libraries across the USA and Canada.  
You can also request both books (and audiobook) from your library directly.  Check it out for free, tell me about your experience and you could win a signed copy.
AMIRA—The epic conclusion—just released!
Now that a saint has met his demise at their hands, Anastazja and Stojan find that they have become the two most wanted people in Amira.
The pair makes their way across the great land in search of the one thing they already possessed: each other.  They must not only reunite but bring an end to the reign of the saints.
Though the may save Amira from further harm they find that their homeland is threatened by the last and most powerful saint—the one that opened the door in the first place.
The epic conclusion to the duet.
Mark is a unique writer in so many ways. His vision, storylines and message to his readers is fantastical, metaphorical and almost prophetic. He takes such a grand concept, breaks it down into beautiful parables and all the while you're transported on an incredible journey of love, family, life and a coming of age. Of second chances.

I cannot recommend this duet enough.
If you liked The Sword and the Sunflower you will absolutely love Amira! It's filled with adventure, love and redemption and you will not want to put it down.
This book is like those rare sequels that are better than the original. I loved the first book, but this one left me emotional in the end. It truly came full circle in such a way that left me feeling almost sad that I won't be able to see more.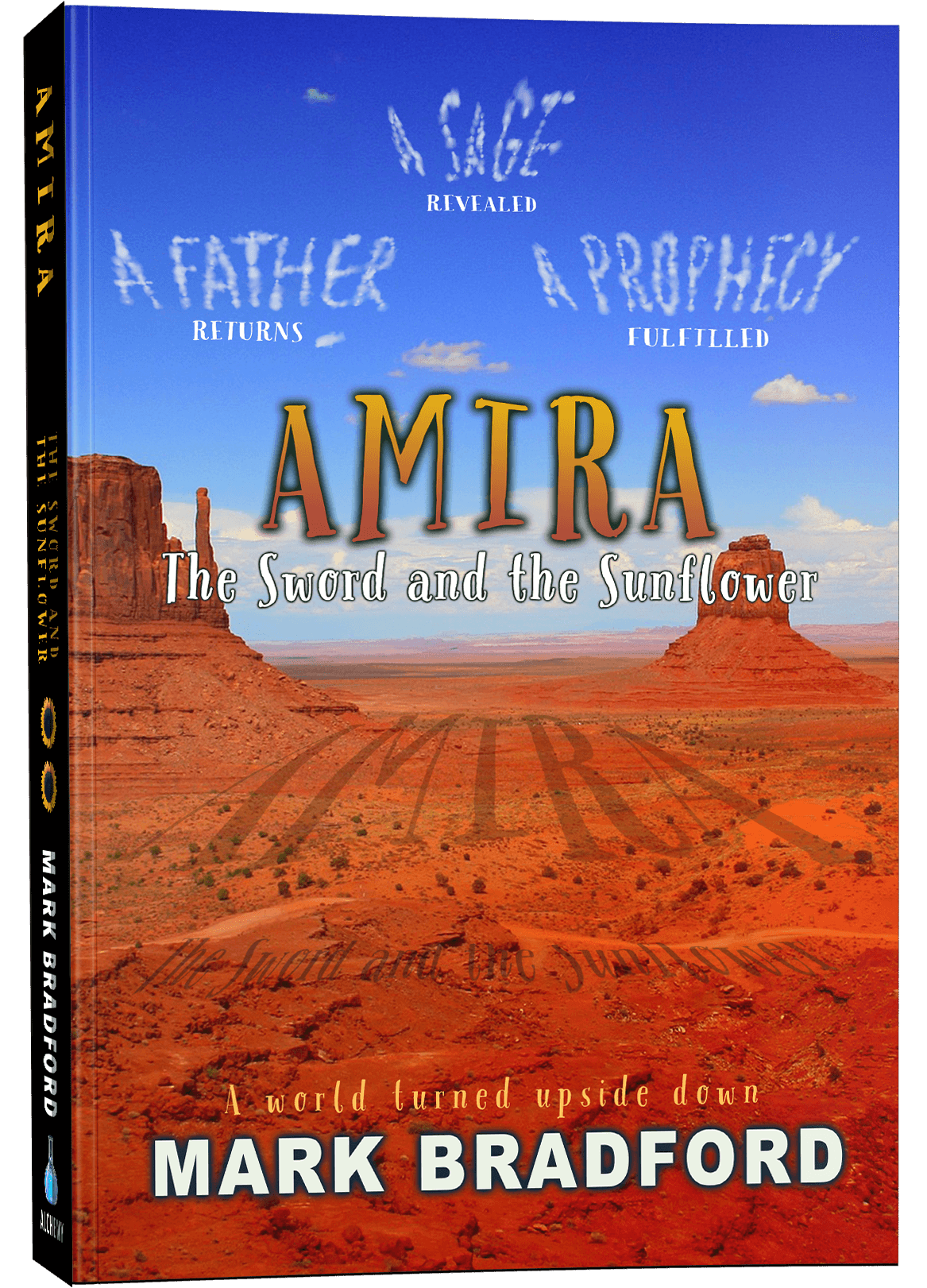 The audiobook for The Sword and the Sunflower has been released!  Available on Apple Books, Google Play, Walmart (kobo), audible.com and many others.
It is also available for free from your local library!  use the Hoopla* ap for iPhone, Android, and even Roku.
* Not associated with Hoopla.
Without too much fanfare I am releasing my seventh book and it is very different from anything else I've written.  When I wrote The Sword and the Sunflower duet it was from a very special place and a poem that seemed to write itself.  It was a story of love, family and adventure and the hero's journey.  I'm a happy endings kind of guy.
While writing it I often referenced a history of pain and suffering and catastrophe—of horrible times in which the Earth lost most of its inhabitants.  What created the beautiful and wondrous yet dangerous world of Stojan and Anastazja was a long history of what occurred after an apocalypse.  What happened was mostly a memory in my mind as I wrote.  It was a place I dared not go.  But I knew the story eventually had to be told.
So, now I am telling the story of exactly what happened.  The catastrophe, the deaths, the suffering.  The tale of how the interlopers manipulated humanity and used their beliefs against them.  You can now learn how we lost our technology, how we were made to rely on their wisdom—a wisdom that actually came from us.  It is not a story of broad brushes but of intimate relationships, and how not people, but each person dealt with such a thing.
What would you do if all your tech was taken away?  If your loved ones were gone before you knew it?  What skills do you have to survive—without a government, a military, or electricity.  Are you ready for that?  And what would you do if the saviors of the human race came.  How would you react to The Saints?  And what would you do if your world was turned Upside Down.
© 2019, 2020 Mark Bradford, Alchemy Publishing.